Buon Ma Thuot City is a center of politics, economy, culture, science and technology of Dak Lak Province. It's also the center of the Highland Region of Vietnam. Referring to Buon Ma Thuot, people often think of coffee fields, communal houses,… Besides, Buon Me Thuot also attracts tourists by majestic waterfalls, national parks or the beauty of the Srepok River. This land has a mild, cool climate and a well connected-system transportation with other localities. Moreover, Buon Ma Thuot will be an ideal tourist destination, close to pristine nature, not affected by human hands that few other places have. Let's explore the Buon Ma Thuot tourist destinations that you have to visit once in a lifetime!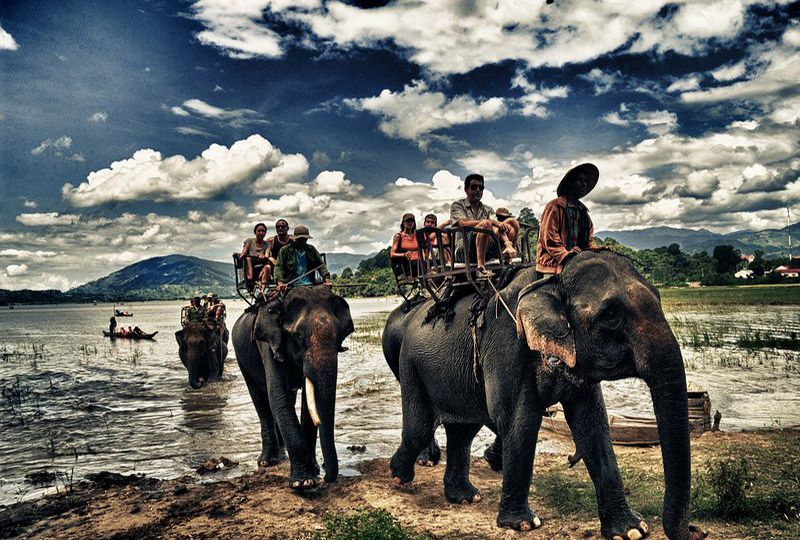 1 – Buon Don – Familiar destination of Buon Ma Thuot.
Buon Don is a highland village located in Krong Na, Buon Don District, a large area, stretching along the Srepok River. The local people have a peaceful lifestyle with many local festivals and with the profession of hunting and taming famous elephants. Come here, you can find out the cultural life, customs, and activities of many ethnic groups.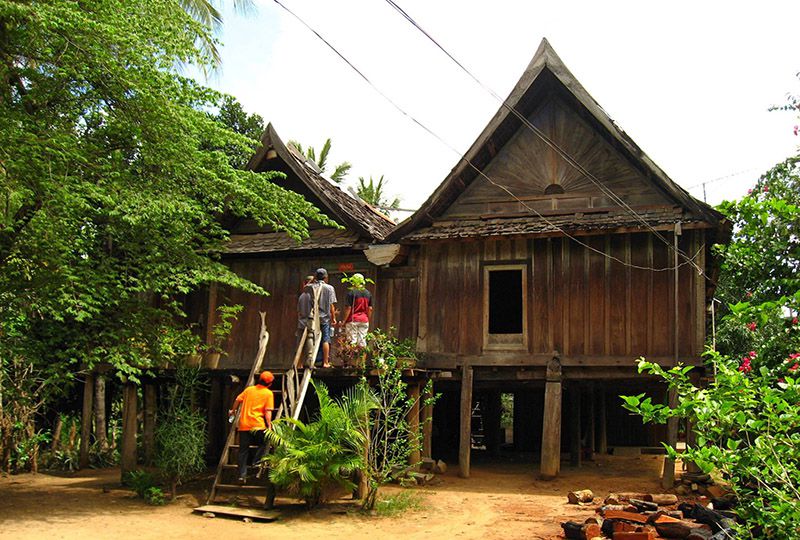 Buon Don must be a familiar listening name because it has appeared in many famous songs about the Central Highlands. However, you have to come here to know about the wild beauty here. Besides elephant rides and discover the architecture of Khunjunop tombs, visitors can explore Yok Don National Park with extremely various flora and fauna.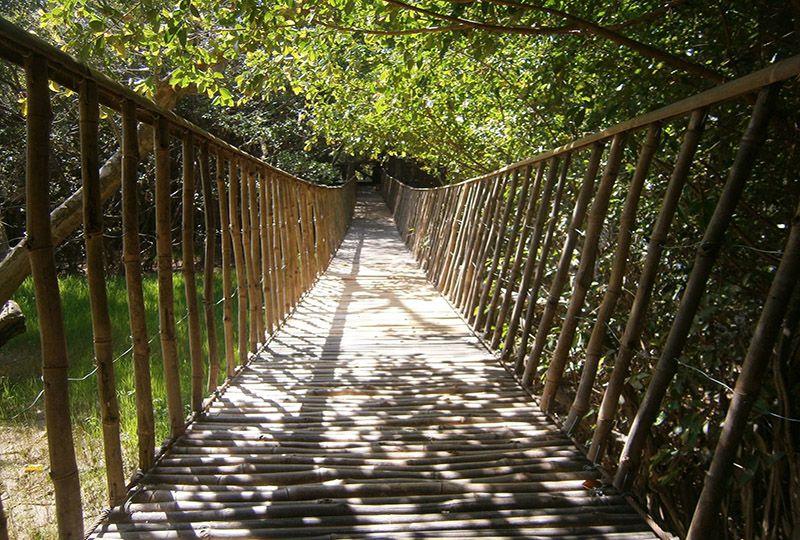 2 – Yok Don National Park – The second largest National Parks in Vietnam.
Yok Don National Park is the 2nd largest of National Parks in Vietnam, and this is only a national park preserving dry deciduous forests in Vietnam. Yok Don is proud to be the first organization to change the elephant-friendly tourism in Vietnam. Besides, it is home to many large mammals such as bison, gaur, buffalo, elephant, monkey, gibbon, tiger, leopard, peacock, pheasant, hawk …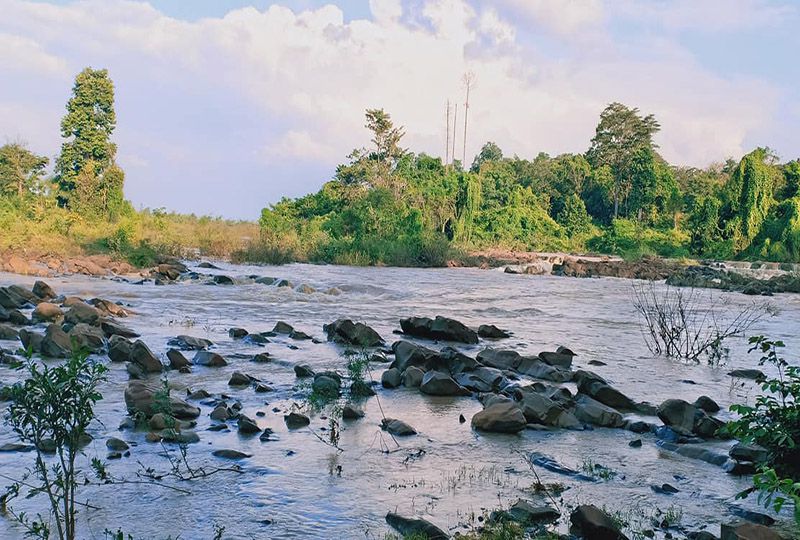 Also, Yok Don National Park preserves many unique cultural values ​​of the Central Highlands ethnic groups such as Ede, M'Nong, Laos … Visitors to the national park will enjoy the typical types of ecotourism such as elephant riding, walking, mountain biking in the primeval forests. Especially at night, you can go to see wild animals. During the day, you can take a canoe on the poetic Serepok River, visit the villages of the indigenous ethnic groups, drink local wine, enjoy the sound of the legendary gong orchestra.
3 – Dray Sap and Dray Nur – Family waterfalls in The legendary Srepok River.
The Srepok River is a major tributary of the Mekong River. This is split into two smaller branches and re-join become one after when through Dak Lak Province. One of the two branches that make up the mighty Dray Sap waterfall of today. And another branch make up the Dray Nur waterfall, also very majestic.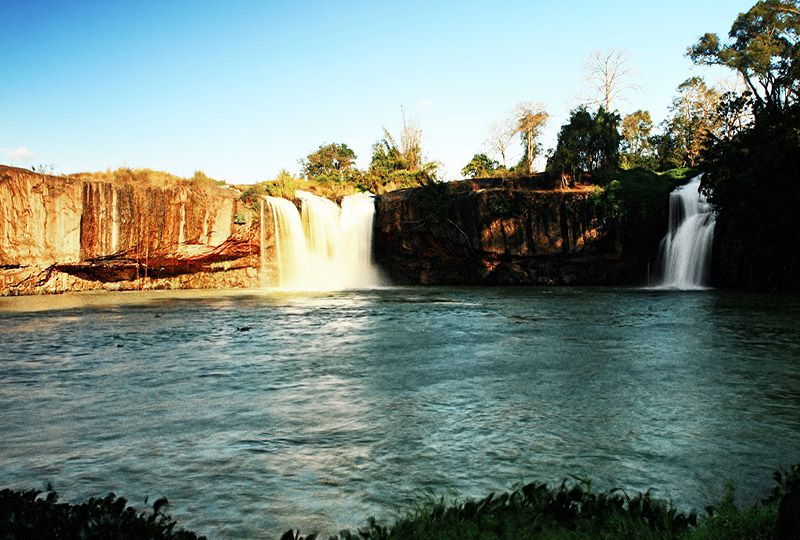 Dray Sap waterfall is located about 39 kilometers from Buon Ma Thuot City, along the road to Ho Chi Minh City. The height of the Dray Sap waterfall is about 20m and the width is quite impressive when it reaches nearly 100m. The majestic water flows from above to form impressive white streams like smoke. Hence the name Dray Sap was born because, in Ede language, this word means smoke.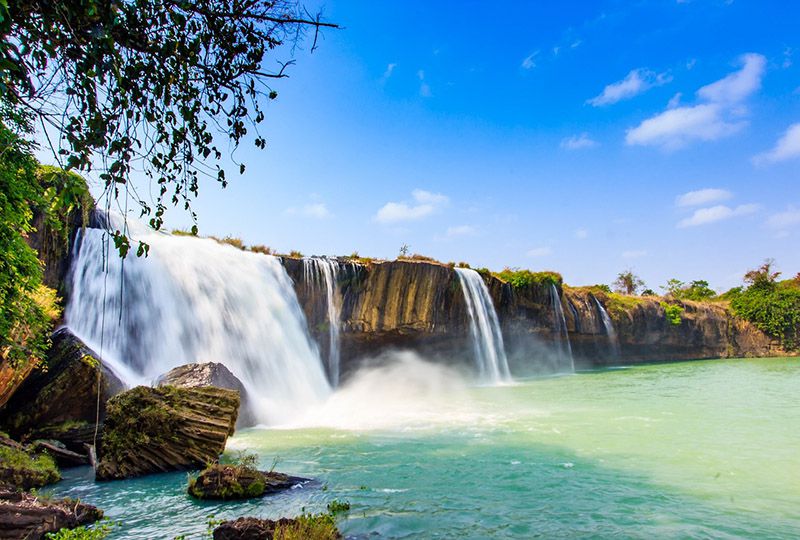 Dray Nur waterfall situated about 26 kilometers from Buon Ma Thuot City on 14th Avenue Highway. Dray Nur Waterfall is pouring vertical water day by day, and released white foam. Discovering this waterfall, you will surely enjoy admiring the wonders of nature as well as having extremely interesting experiences. Come here, you can not miss the three – in – one experience extremely excited. That is a mix of Biking – trekking – and rafting from Dray Nur Waterfall to Dray Sap Waterfall.
4 – Lak Lake – The large natural freshwater lakes in Highlands.
Speaking of Dak Lak, people often refer to the Myth of Lak Lake, the large natural freshwater lake here. Lak Lake connects with Krong Ana river, about 500 hectares wide, higher more than 500 meters above sea level. It has a natural attract, fresh air and wild lifestyle. Around the lake there are large mountains covered with primeval forests. Lak Lake is also a place to keep the unique cultural values ​​of indigenous Mo Nong people.
Nearby Lak Lake has the largest monolithic rock in Vietnam, local people often call Mom's Stone. The Majestically Stone has 200 meters of length and 30 meters of height with the weight of thousands of tons. This is a mountain range of Chu Yang Sin National Park, located about 40 km from the center of Buon Ma Thuot City along 27th Highway.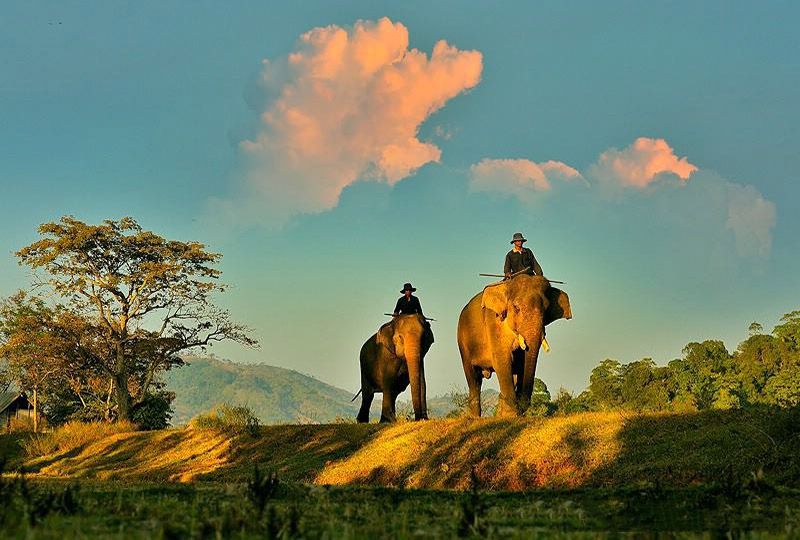 5 – Ako Dhong Village – A peaceful Village in the north of Buon Ma Thuot City.
Ako Dhong Village or Ama Rin Village, located in the north of Buon Ma Thuot City within 2 kilometers distance. That is also a favorite place to visit when coming to the city of coffee. For a thousand years of established and existence, Ako Dhong always keep the unique traditions before the development of modern lifestyle. Coming to Ako Dhong village, you will have the opportunity to see traditional festivals, to experience the lifestyle of the local people here. Festivals are held regularly by the Ama Rin village elder, with traditional lyrics, music, and dances under the roof of a longhouse.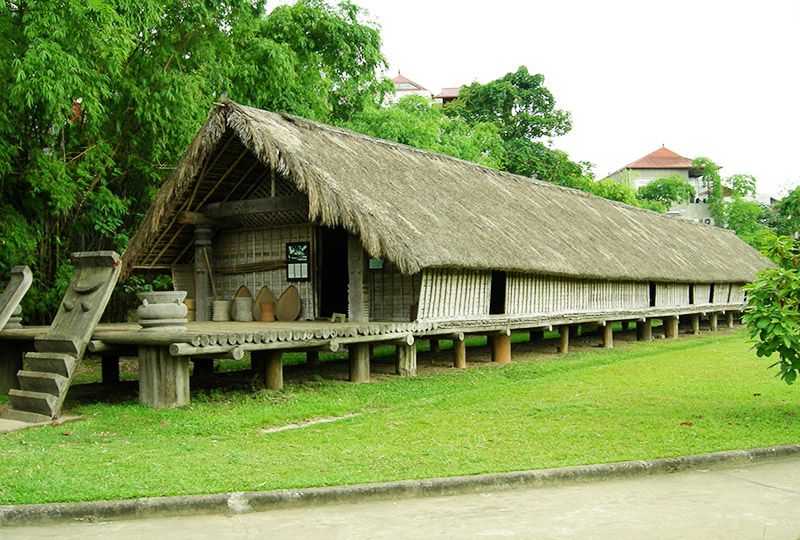 6 – Ko Tam tourist area.
Ko Tam tourist area is quite close to downtown Buon Ma Thuot City, less than 8 kilometers away. This is an ideal place for you to learn about the culture of the local people here. Ko Tam includes diverse ecosystems combined with many artificial areas, this has become an interesting destination for tourists coming to Buon Ma Thuot.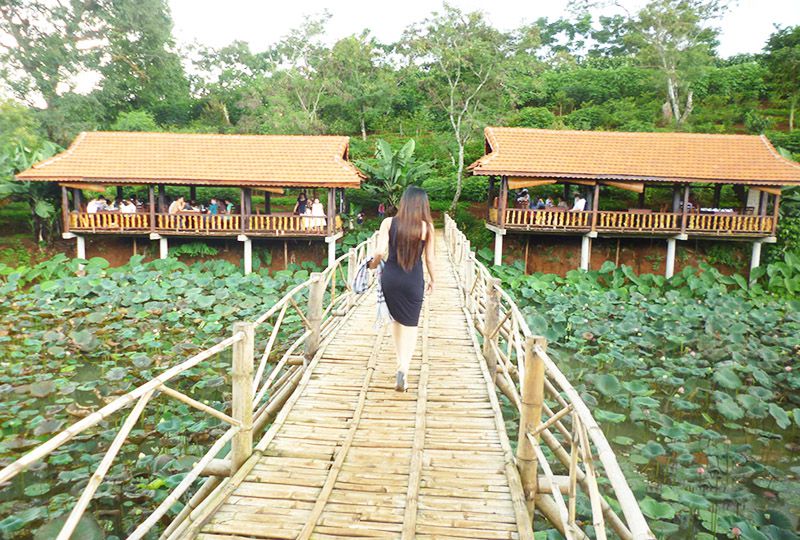 7 – Thuy Tien Waterfall.
Thuy Tien Waterfall a beautiful landscape situated in Ea Puk, Krong Nang District, Dak Lak Province. It also has another name is Three Floors Waterfall because the flow from the waterfall is divided into three impressive floors.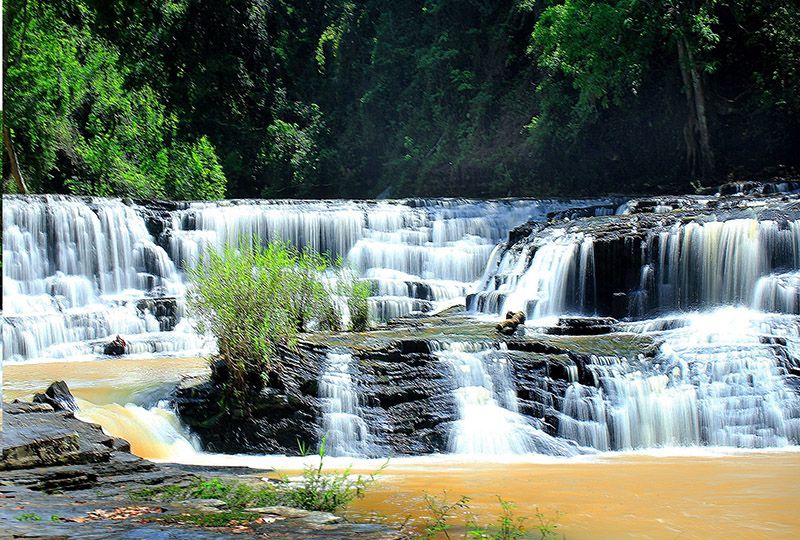 Compared to other waterfalls of Dak Lak such as Dray Sap or Dray Nur, Thuy Tien waterfall is less known because it is not convenient to travel. However, with its beauty and after highways has been upgraded here, it has been more sought to admire and enjoy its wild beauty.
8 – Other destinations inside Buon Ma Thuot City.
If you don't have much time to travel far away from Buon Ma Thuot city center, visitors may choose bellow places to discover.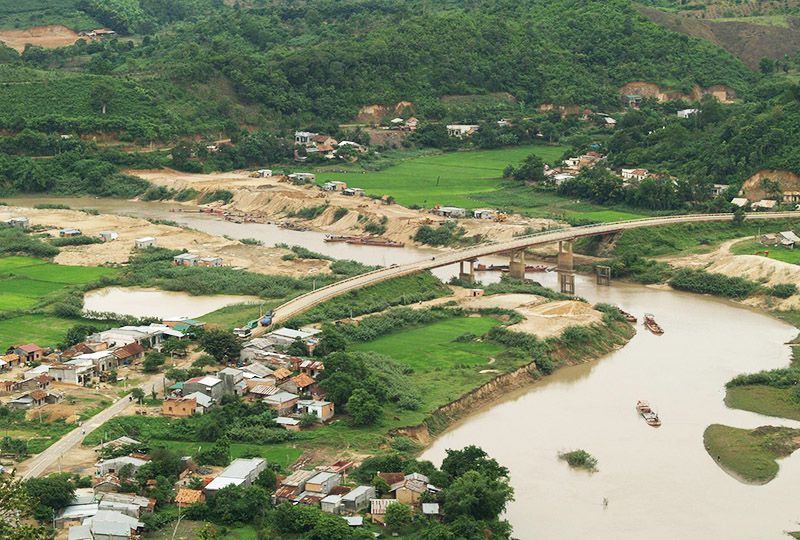 – Thanh Tam Church.
Thanh Tam Church situated in 02 Phan Chu Trinh St, Tan Loi Ward. This is the main church of Buon Ma Thuot diocese. With a design like Ede's longhouse and entirely wooden, the church is also a place to come and take souvenir photos because of the unique architecture.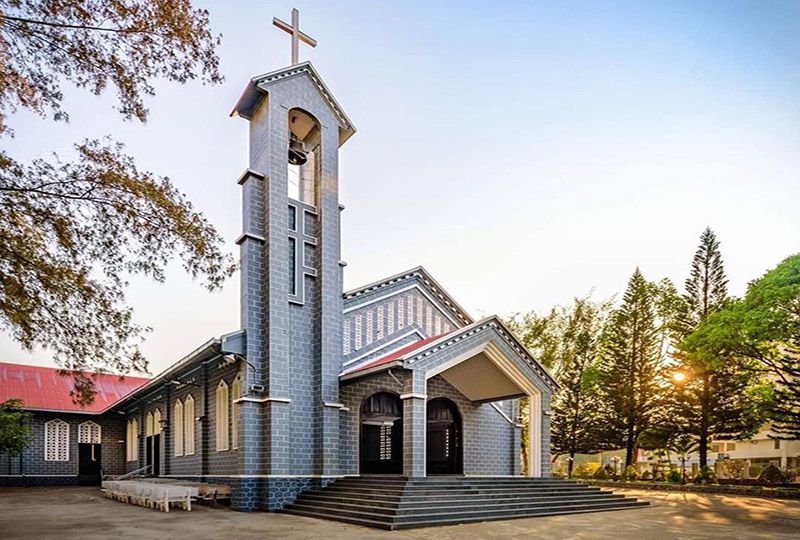 – The majestic ancient Konia Tree.
Konia Tree in the concept of ethnic people here is the residence of the gods. Therefore, it has extremely sacred meanings, representing a traditional culture of this place. Coming to the Central Highlands mountainous areas, tourists should spend time to view this attraction one time.
– Trung Nguyen coffee village.
Located in Tan Loi Ward, Buon Ma Thuot City, Trung Nguyen coffee village is an architectural complex consisting of many zones, serving domestic and international tourists. Not only introduced about coffee here also showing hundreds of historical artifacts of the Central Highlands ethnic groups.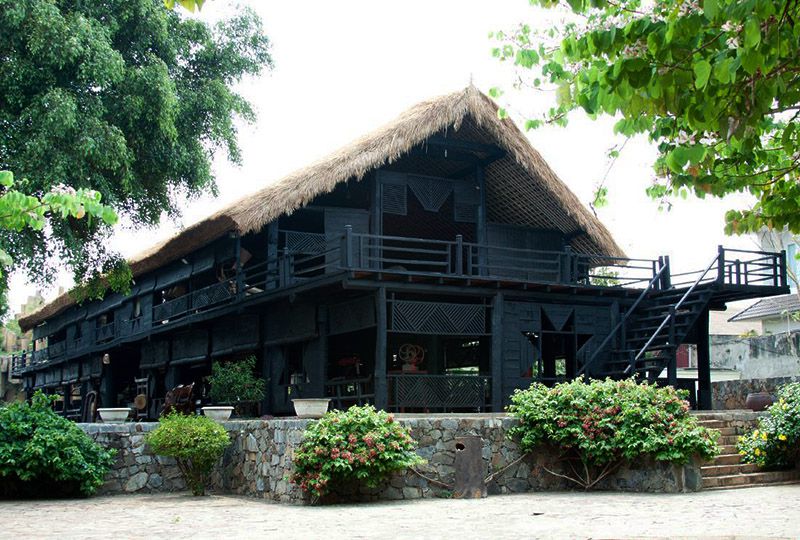 – Dak Lak Museum.
The Museum of Vietnamese nationalities in Dak Lak is a historical monument of Dak Lak province. That's situated in Buon Ma Thuot city center. This is the first museum in Vietnam that uses 4 languages ​​in the exhibition, including Vietnamese, French, English and Ede. There are more than 1000 artifacts and images, showing the characteristics and beauty of the ethnic community.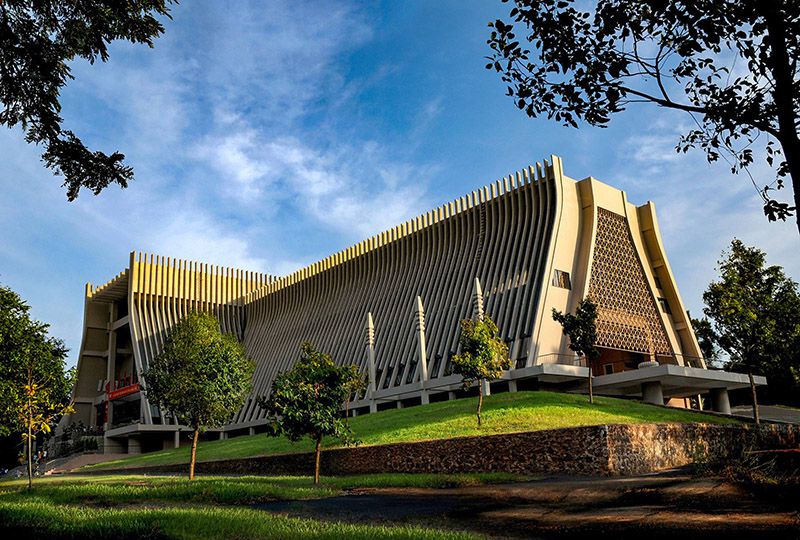 A cup of Cafe is good for the beginning every morning here!