Nha Trang is a coastal city and the center of politics, economy, culture of Khanh Hoa, Vietnam. Besides, Nha Trang is also a tourist city associated with beautiful sandy beaches, perfect climate, unique historical, bringing thousands of tourists every year.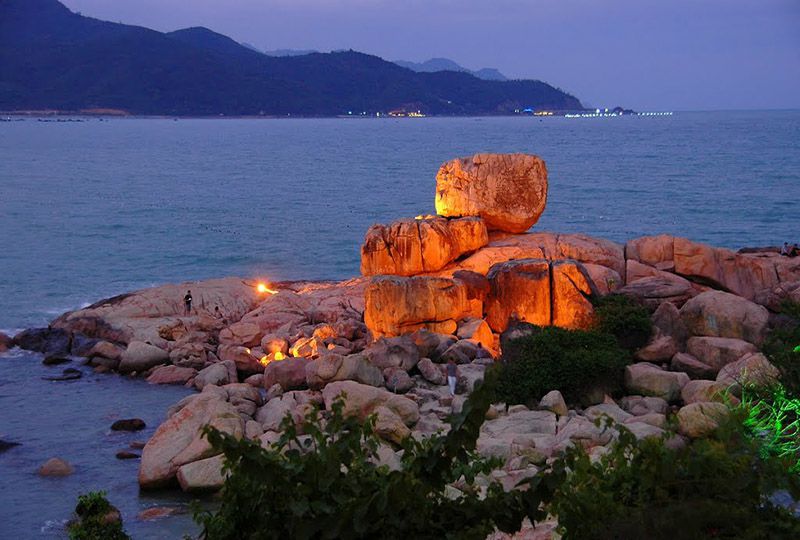 Come here you have a lot of choices of attractions to enjoy the food, join the games or a good experience. In the eyes of domestic and foreign tourists, Nha Trang often the best place to go when they come to discover Vietnam. Here I would like to summarize the places that you can explore when visiting Nha Trang.
1 – Po Nagar Towers – The Champa Symbol culture and architecture.
Po Nagar Towers is a beautiful ancient architecture of Champa people, 2km north of Nha Trang. This temple built between the 7th to the 12th centuries during the Hindu period of Champa. The temple was delicate to the goddess of the country, Yan Po Nagar, who is said to have created the earth, eaglewood, and rice.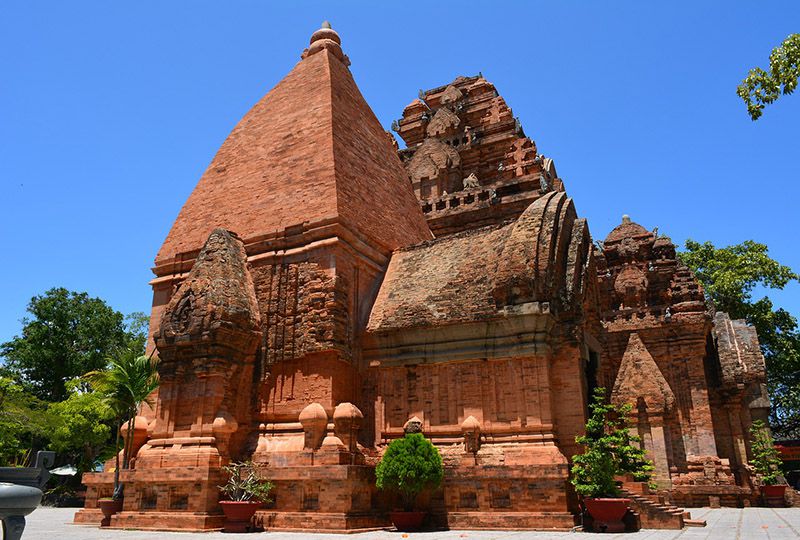 Po Nagar Towers situated on a small hill at the mouth of the Cai River at Nha Trang. Nowadays, it is used to worship by the remaining descendants of the Champa culture. When Po Nagar gave to Vietnamese, they are dressed the goddess in Buddhist robes. The temple is also popular with tourists with a small fee charged for the entry and the parking lot small and crowded. After visiting Po Nagar Towers, you can combine mud bathing at Thap Ba hot spring resort nearby.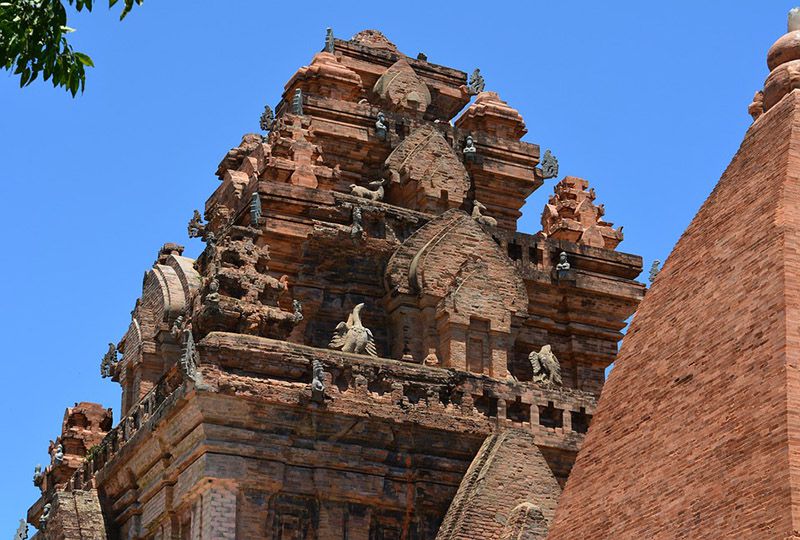 Address: Po Nagar Towers, Vinh Phuoc Ward, North of Nha Trang City, Vietnam.
2 – Nha Trang Cathedral – The Unique stone church with French architectural style.
Explore Nha Trang Cityscape, besides the beautiful landscapes, visitors also have the opportunity to learn about historical monuments, cultural works with unique architecture. One of the architectural works that tourists cannot miss is Nha Trang Cathedral, as known as Stone Church.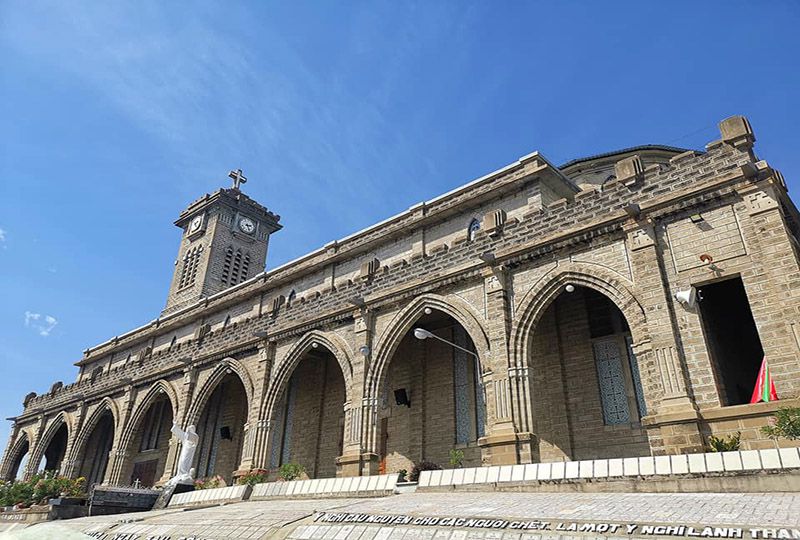 Nha Trang Cathedral built over 70 years ago under the direction of a French priest, Louis Vallet. Nowadays, the Stone Church is a place for parishioners in Nha Trang to come to the ceremony and prayers. And it is also a destination that attracts tourists by its brilliance and elegance.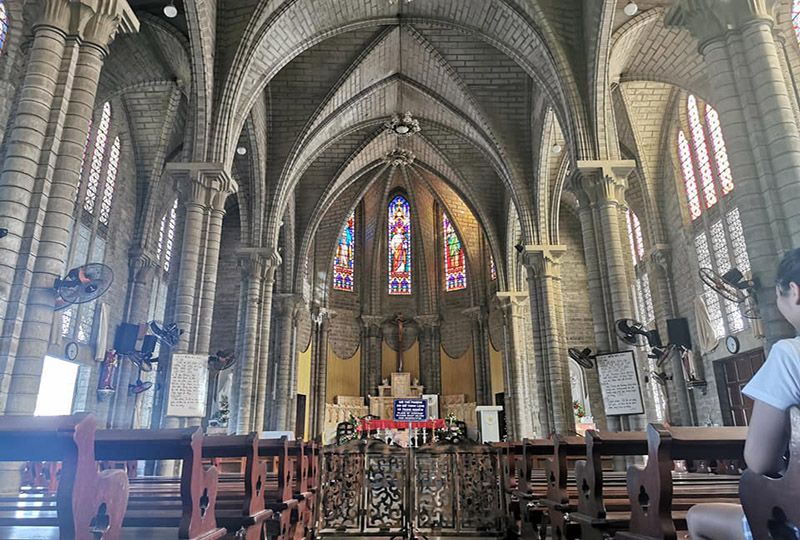 Address: 31 Thai Nguyen St, Vinh Tan Ward, Nha Trang City, Vietnam.
3 – Long Son Pagoda – The Largest Buddhist temple in Nha Trang, Khanh Hoa province.
Long Son Pagoda is as known as Dang Long Temple, situated on the foot of Trai Thuy Mountain, western of Nha Trang, Khanh Hoa. This Buddhist temple built in 1886 and has many restoration times after that. In 1940, Long Son Pagoda rebuilt so features architectural and sculpture art imprinted with modern imprints.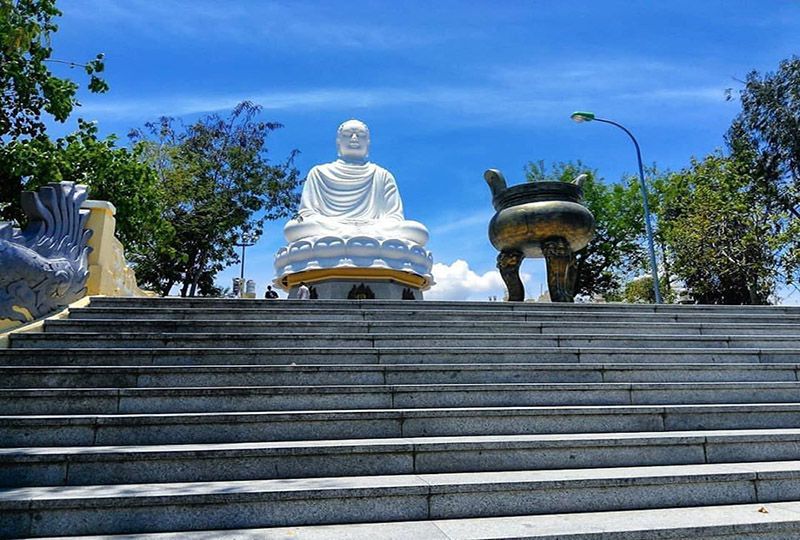 Over hundreds of years of existence, Long Son Pagoda has become the largest pagoda among the remaining temples in Khanh Hoa province to date, creating a famous beauty of the beautiful city of Nha Trang. At Long Son Pagoda, visitors can find the large white Buddha statue sitting atop the mountain crest that you can see from most places in Nha Trang.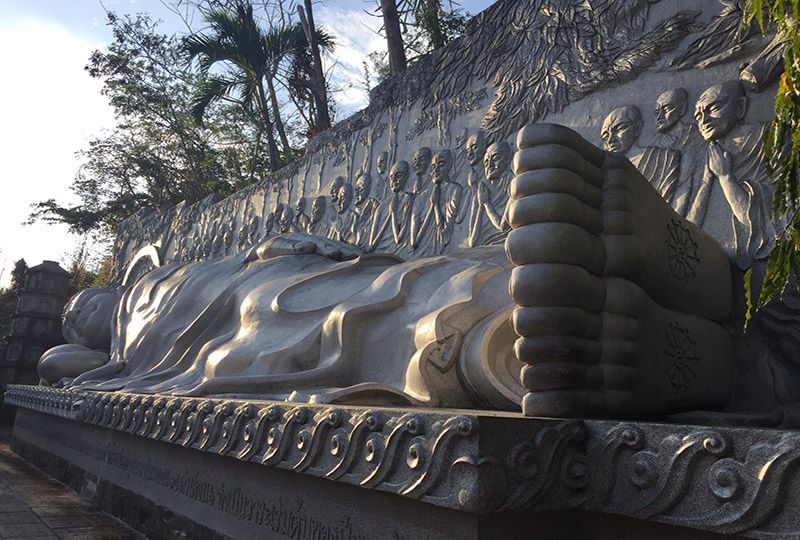 Address: 22, 23/10 St, Phuong Son Ward, Nha Trang City, Vietnam.
4 – Vinpearl Land Nha Trang – The most recreational paradise in Vietnam.
Vinpearl Land situated in one of the nicest islands in Vietnam, Hon Gai Island, Nha Trang City, Vietnam. Established in 2001 by Vingroup, Vinpearl Land with international standards to attract millions of domestic and foreign tourists to visit and explore. Travelers can reach the island by ferry or chose the cable car to save time and see the beautiful beaches from above.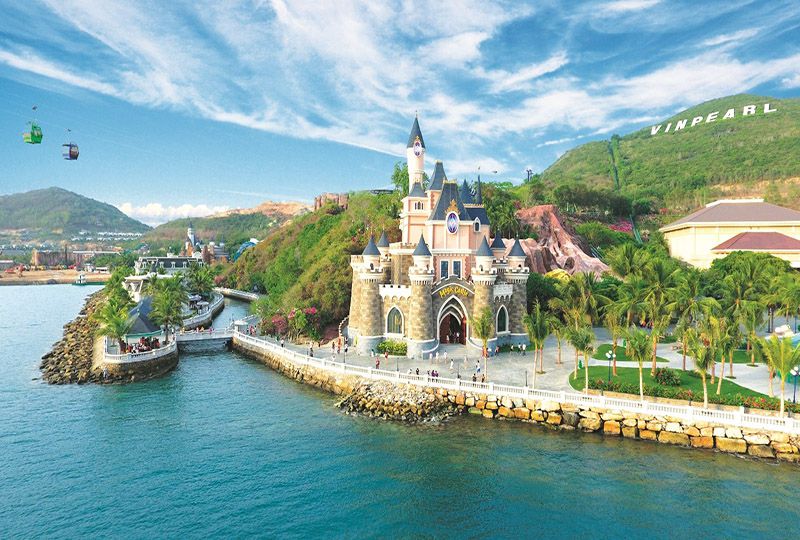 Coming to Vinpearl Land, everyone will relax at luxurious hotels, visit beautiful gardens and have an ideal freshwater pool. At here, besides participating in thrilling games, tourists also have the opportunity to visit the magnificent aquarium and the magnificent 4D cinemas.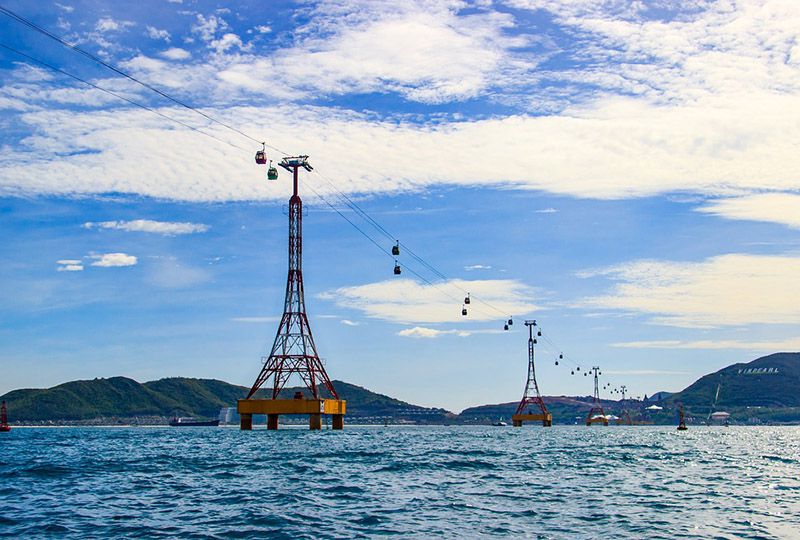 Address: Hon Tre Island, Nha Trang Bay, Khanh Hoa, Vietnam.
5 – National Oceanographic Museum – Museum of interesting sea creatures.
The Museum was built by the French in 1923 with an area of ​​about 20 hectares. It's located near the deep sea favorable for the study of marine species. In here, there are many beautiful and rare marine species collected and preserved. Since inception. it has allowed visitors to explore the marine life of the region through artifacts, fossils and displays, spread out over two floors.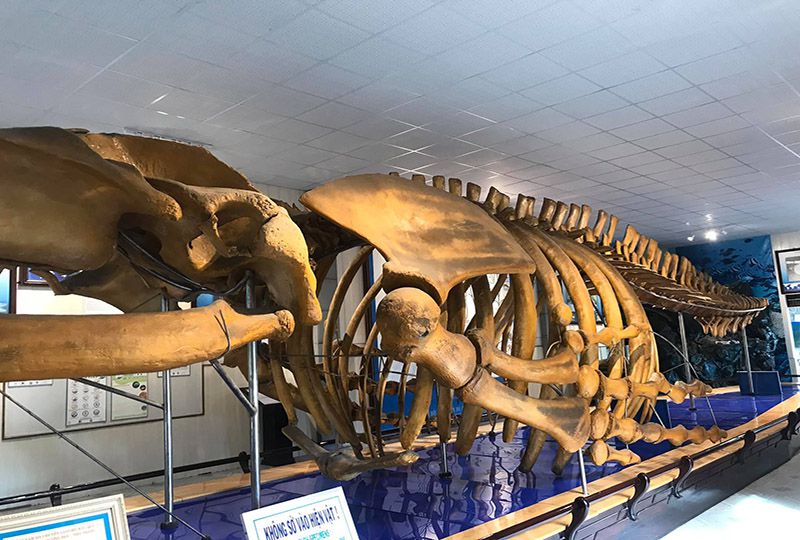 If you have little or no knowledge of the sea and marine life, this is a place to explore. The Museum has many types of creatures, including living creatures and preserved specimens. Specifically, there is a giant sperm whale skeleton. This is a destination for both adults and children to understand and love the sea of ​​Vietnam.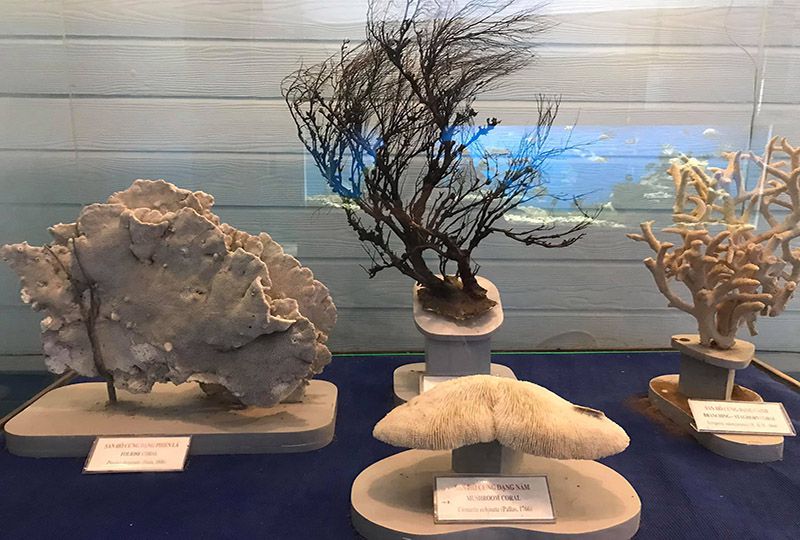 Address: 1 Cau Da St, Nha Trang City, Khanh Hoa, Vietnam.
6 – Dam Market – The Largest Market of The Coastal city.
Dam Market is the most popular market in Nha Trang coastal city. It has a unique architecture, built in the direction of a circular market with a folding roof and a bow-shaped branch.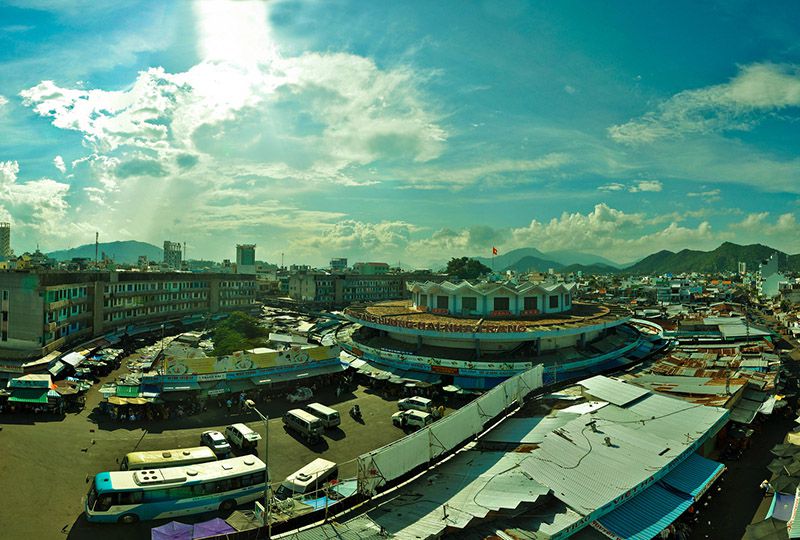 Inside Dam Market, visitors will find everything Vietnamese, from clothes and accessories to electronics and household items, spread around various colorful stalls. Head in here in the morning and have some breakfast in the food court to start your day.
Address: Ben Cho St, Van Thanh Ward, Nha Trang City, Khanh Hoa, Vietnam.
7 – Monkey Island – The ecotourism island on Nha Phu Bay.
If you have the opportunity to visit the coastal city of Nha Trang, you should never miss the opportunity to discover the uniqueness of Monkey Island. Besides, with many interesting collective activities, promising to bring unforgettable experiences for you and your relatives and friends.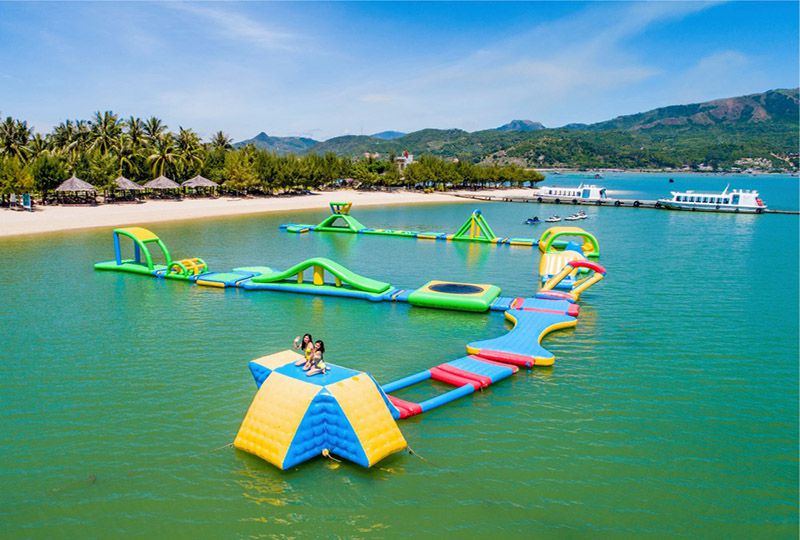 Located right in the middle of Nha Phu Bay, 15km to the North of Nha Trang City. Monkey Island is a small islet with the shape of a javelin, which runs straight to the sea. This place is home to more than 1200 monkeys that live naturally on the island.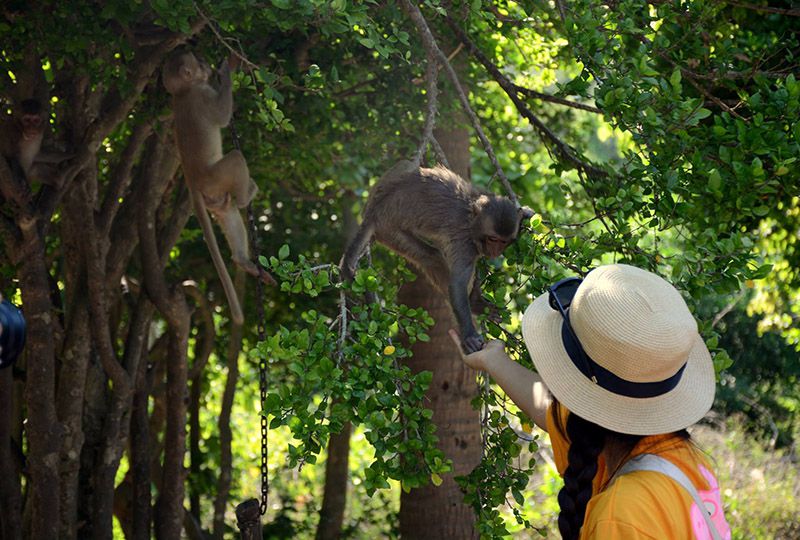 Address: Hon Lao Island, Nha Phu Bay, Khanh Hoa, Vietnam.
8 – Bao Dai Palace – The Cau Da Villa face to Nha Trang Bay.
Nha Trang is a coastal city with many landscapes, in which Cau Da villa is a famous historical and cultural. So anyone who comes to this beautiful city should take the time to explore the interesting features. This place was once the last emperor of the Nguyen Dynasty as a resort when he comeback.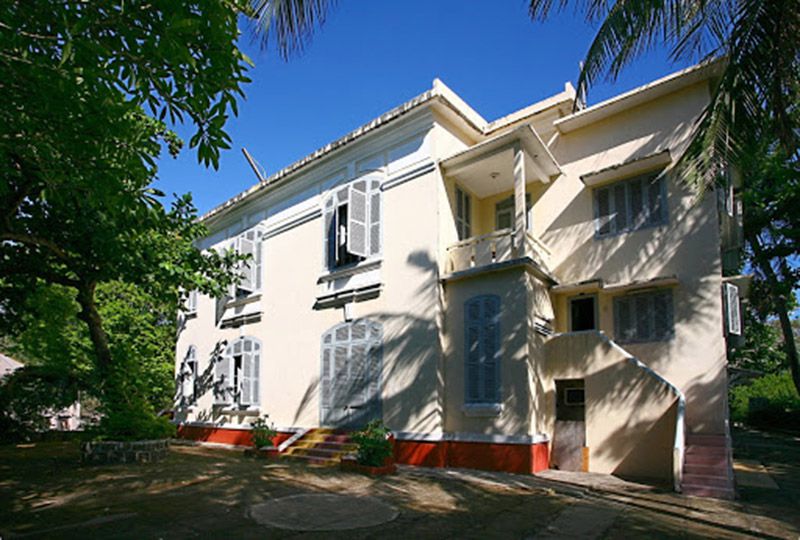 The villa compound situated in the most favorable position of Nha Trang Bay. This built on three hills of Canh Long Mountain, protruding in the middle of the blue sea. From a distance, Canh Long Mountain runs along the coast like a giant green dragon hugging the sea town. Currently, it is a small museum displaying the life and identity of Emperor Bao Dai. That including many photos and historical records of the king, queen and family.
Address: 90 Tran Phu St, Vinh Hoa Ward, Nha Trang, Khanh Hoa, Vietnam.
9 – Yang Bay Waterfall – The beautiful landscape of Khanh Hoa Province.
YangBay is an attractive place for tourists because of its wild beauty of mountains and forests with vast trees and waterfalls. So that, when reaching here, people can have the relaxation, comfort in the airy and fresh. The special thing that first-time visitors are surprised by the beauty of one of the tourist destinations in Nha Trang. The waterfall has two strings, one cool and one hot, this makes a difference and brings a unique beauty for this attraction.